I thought I'd let you know that I've just completed construction and testing of an omnidirectional TV antenna based on your February 2013 Popular Communications article.

My aim, like yours, was to receive all the stations in the Baltimore-Annapolis-Washington area, although I think my location (on high ground near the intersection of Highland Drive and Crosby Road, Silver Spring, MD) is a little more favorable for this than your Mt. Airy location -- no mountains between me and any of the transmitters. For me the Baltimore and Washington stations are mostly 180 degrees from each other, with Annapolis off to the side. With a UHF station aimed at the Washington stations, I would not receive reliable reception of MPT from Annapolis (virtual ch 22) or the Baltimore stations actually on UHF. With the antenna constructed with your design, on my first test with the antenna temporarily sticking up from a bucket of rocks on my roof I received all these stations without pixelation except for WBFF (virtual ch 45). And I also received all the Washington area stations well. When the weather is warmer I plan on further testing and permanently mounting the antenna. It will be interesting to see if reception changes significantly when the trees leaf out.

I constructed my antenna using aluminum elements from an old VHF antenna cut to size and bent to bowtie shape rather than from heavy wire. I riveted the bowtie elements to the PVC pipe. If you are interested in a picture, let me know.

Thanks for writing your article in Popular Communications. It was very helpful to me.

Robert Oshel

-----

Robert,

Yes, please do send a photo of the finished antenna, and I hope I can use both the picture and your email on my web site and/or blog.

Please also keep me informed.

After the article was published I noticed an error in my wiring diagram. I've since corrected it but they never published the update so it is up on my site.

Go to the ke3fl site, URL listed below in my signature, look for "Take a look at the new Feature Article!" and click on that link. Then click on the "The Porcupine TV Antenna" link to see the construction photos & the updated wiring diagram for my design.

I modified one antenna but really did not notice any differences in reception in my area before and after, but this wiring is easier & more logical.

Thanks,
Phil

-----02/14/2015

Phil,

Thanks for your quick response and the correction for the wiring diagram.

I'm attaching a photo of the antenna. Feel free to use both it and my email on your web site and/or blog.

I've printed the revised wiring diagram. That raises a question: I have some elements from the old VHF antenna I cannibalized left over, probably enough to make four and maybe eight more bow ties. How would I wire it if I added one or two more sets of bow ties? I'm assuming more sets of bow ties would add to the signal strength.

By the way, I did not use a matching transformer. I simply stripped one end of a piece of RG-6 and wired the shield to one of the feed line points and the center wire to the other.

Thanks again for your great article and your help.

Bob

-----02/16/2015

Bob.

I've tackled the question of using a matching transformer or not in one of my Solid Signal blog articles.

Go to my web site below for "Karras' Corner" and look for "Transformer Tests" click on it to read what I found out. Also there are a number of other articles & tests I've written there.

Are you an amateur radio guy? If not 73 means Best Wishes & KE3FL is my amateur call sign so I can broadcast on the radio. Oh, and "de" means "from".

73 de KE3FL,
Phil

-----Additional

The question about adding more sections. The more vertical sections you add the taller the antenna, the more wind loading it will have, AND the more likelihood you'll be putting elements into different signal reflections or signal phases thus some will add others will subtract and essentially you could have better gain for some stations and worse gain for others. The only way to know it is to try it, or another way commonly done is to put the antennas side-by-side and phase them properly for gain. But again, since the frequencies in use cover such a wide bandwidth there is probably no antenna / element arrangement / that will always produce equal gain for all stations.

Wiring more elements vertically is done as an extension of the diagram I've supplied, print two of them out & place them vertically to each other and overlap the bottom crossed section with the top of the second copy's crossed section.

So, it should be crossed section, straight section, cross section, straight section, cross section, etc.

-----02/16/2015

Phil,

Thanks again! You've answered the question in the message I just sent before I sent the message!

- - -

I didn't use a matching transformer because I had read your short piece (PopComm, Feb 2013, p. 16) that said the antenna seemed to work better without one than with one. After reading some more on your website, it sure seems like that was a good decision. I ran RG-6 coax in from the antenna.

I've also rewired the antenna in keeping with the correction you mentioned in your earlier message. Between the cold weather and snow over the weekend, I haven't tried the rewired version to see if it makes any difference. Whenever it finally warms up a bit and the snow melts off the roof, I'll try it.

I got the stuff I needed to permanently install the antenna this afternoon. Fortunately it's easy for me to get up on the roof to do it. I go out onto a balcony, step up to a low roof, and then only have to use a 6 foot ladder to go on up onto the back side of the main roof, which is easy to work on since it isn't steeply pitched.

I've scrounged some more and now have enough more tubing to build a second one of your antennas. I assume stacking them would improve reception some, but is it likely to make enough difference to make it worth the effort? Also, if I did that, how should the two be wired together?

I'm not really an amateur radio guy, but I've always been interested in broadcast reception. As a kid I put up a long wire antenna for AM DXing and I built a TV antenna while I was in college. I know enough about amateur radio to recognize a call sign, but that is about the extent of it.

I've found your article and website very useful!

Stay warm, and good luck with the snow in Carroll County! It started here in Montgomery earlier than they had been predicting. Hopefully that doesn't mean that we'll end up getting more than they predicted.

Bob

-----02/21/2015

Hi Bob,

Sorry there is such a delay in my responses but I started a new job & simply don't have time to even look at my email most days any more. Well, it's better than not working which I was doing for 13 weeks before I got this job but I sure miss being able to read my email daily.

How is your snow today, Saturday the 21st? We had 7" as of 3pm then it stopped so we went out & did a little shoveling to the wood pile and then as I started bringing in wood the snow started up again. It looks like we've gotten at least another 2.7" - The 7" of snow was 1.1" of water. I haven't melted the new snow + sleet since it hasn't stopped yet or filled my collection container yet.

73 de KE3FL,
Phil

-----

Phil,

Congratulations on the new job. I hope it is going well. I hope your commute is OK. One nice thing about being retired is that I don't have the commute any more.

We had about 3 inches of snow on the ground before today's snow started. Starting about 10:30 we got about 5 more inches of snow before it started sleeting late this afternoon. The sleet is supposed to change to rain later tonight as it warms up more. In fact the temperature as gone up about 2 degrees in the last hour. It is 29 now. [You can see my weather station at http://www.weatherlink.com/user/woodsidepark/.] It is supposed to be in the 40s here tomorrow, and I had hoped to get the antenna installed up on the roof. But I doubt that all the snow will be melted off the roof even with the warmer temperatures and rain. We'll see. I'll let you know how the antenna is working once I get it installed.

I haven't tried clearing the walk and driveway yet. I didn't want to get the snow off only to end up with a layer of ice. I'll be out tomorrow morning clearing everything, but with sleet and then rain on top of the snow, it will probably be a heavy mess to clear.

Stay warm!
Bob

-----02/22/2015

Bob,

Well, we went to a youth music concert in Columbia, the Columbia Orchestra was playing things young people would like, much from Frozen this time around. It was really well done but we came out the 3" of snow on the roads & it took us 2 hrs to get home. There were times when the only way I stayed on the road was to have my wife put her head out the window & tell me I was getting too close to the road edge or by looking out the side windows & positioning the car equal distance between the two edges I could see.

We got off 70 and took 144 back to Mt. Airy & saw shortly after leaving 70 that it was completely stopped due to a tractor trailer & police cars blocking the lanes. We stopped at 4 county Exxon to clean off the wipers and windows for the fourth time & managed to get home only getting stuck about 3 feet from the garage door. We had to shovel the snow away from the front & under the car it was 6" on the driveway by then. Got home safe & sound but we won't be doing that again if they're calling for snow like this time.

Nice weather station web page I've got a weather station as well but the wind speed will never be correct here since I'm more in the woods & have trees all around. I tried placing it in the front yard as far from the trees and as close to the road in the hope of getting good wind speed measurements, it didn't help. ALso the temp is always high when the sun hits it, it is saying 55 degrees to the one in the shade which is saying 44 degrees.

We ended up with 10.5" and it melted down to 2.3" of water. (The water content.)

A neighbor used his snow blower to clear our driveway for us late last night & yes it was all ice this morning but all I had to do was throw a little sand on it & we were out without any problems. The plow came in again just before we had to go to church so the roads were usable if not clear.

Good luck with the antenna and don't take any chances up there on the roof!

-----

I checked the roof about 4 p.m., and there was still a lot of snow up there, so the antenna installation project is going to have to wait.... probably at least a week given the forecast for more cold weather.

I got my driveway dug out this morning. We have a snow blower, and I did a couple of neighbors, too. The snow had started melting and was really wet and heavy, but the blower got most of it. Montgomery county came by later and plowed out the street, so we're all set.

That was quite a trip back from Columbia. I'm glad you made it.

My weather station wind speed is always lower than the official version, too. The measurement is taken up on top of a pole that is just a little higher than the top of my roof, but I don't think it is really high enough, especially with trees to the west considerably higher. My temperature readings seem pretty accurate. The temperature is measured in a mostly shady area about 15 feet above the ground. So far I've had .59 inches of "rain" from snow melt today. That is probably all there will be.

I'll let you know when I finally get the antenna up on the roof.

Bob

-----02/24/2015

Bob,

Glad to hear you passed on the antenna-roof project. A neighbor came over in the evening and used his snow blower to clear enough of the driveway that we were able to get to church Sunday morning.

Both my wife & I ended up with head colds so neither of us really wanted to get out there & shovel. My head cold seems to be just about over so from Friday to Tuesday makes it five days.

Phil

-----03/05/2015

Phil,

I finally got the antenna installed on the roof yesterday before the rain started late in the afternoon. Initially I wasn't even getting all the D.C. stations, but I traced the problem to a loose F connector on the cable I had attached to the antenna. It was a compression connector on a commercially bought RG-6 cable. I had cut off one end and stripped the cable to connect to the antenna, leaving the F connector at the other end. Apparently the compression connector got pulled enough as I was hooking up the cable into the house to cause a problem. Anyway, once I replace the F connector and hooked it all up again, it performed about as it had when I put it up there with a temporary cable running into the house through a door.

All the D.C. area stations are fine, as is MPT from Annapolis. WMAR (virtual 2.1) in Baltimore sometimes pixelates, and I'm not getting WBFF reliably either, but this is still an improvement over my old antenna aimed at Washington. Once all today's snow melts, I may try rotating the antenna a bit and see if I can improve things.

So far we've had about 6 inches of snow here in Silver Spring, and it is still snowing steadily.

Good luck in Mt Airy.

Thanks again for all your help with the antenna!

Bob

-----03/08/2015

Bob,

I'm glad to hear that you've gotten it up and found that the F-connector connection was bad before you couldn't easily change it out. I too have all the tools to attach good quality male f-connectors to the coax. It pays to use the best in these cases including good - best quality coax you can afford.

Also, possibly putting an amp at the antenna might help. How long is your coax run from antenna to the TV? The losses on the coax at UHF frequencies is quite high. You may find that the Baltimore stations are tight on the edge of being usable, such as your WMAR pixellating. The others may be there at high enough levels to be usable just not high enough to get through the coax run and still be usable. I can recommend an amp to try with low insertion losses - I've been testing three different amps but haven't been able to write it up yet and don't have the motivation because at home the tests run show that the signals are not good enough for me to see clear differences between the amps.

We ended up with 7.3" snow and 1.4" of water. Did not get to work on Thursday but did manage to get in on time on Friday, it took all of 1hr 45 min. about 20 min. longer than usual.

Let me know if rotating helps any I think it might because I don't think we can make all elements perfectly equal and there still might be some minor dips in the 360 degree pattern. I do not have good enough tools to test that, nor do I have a good test room that blocks all outside signals.

I forgot to tell you to forward my home & work email to Larry.It was nice of him to ask about me.

Phil

-----Sunday, March 8, 2015

Phil,

I had thought about an amplifier at the antenna, too, and had been looking on-line. What models are you testing?

Most of my house is wired with coax. In the late 1970s we had an antenna system installed with one VHF antenna pointed at the DC stations, another VHF antenna pointed at Baltimore, and a UHF antenna on a rotor. The VHF antennas feed into Finco mixer/divider networks and ultimately into the VHF input of an amplifier. The UHF antenna feeds into the UHF input of the amplifier. The output from the amplifier then feeds to splitters to various rooms.

I still use the VHF antennas and have hooked the omnidirectional UHF antenna I made with your design into the UHF input of the amplifier, substituting it for the one on the rotor. So I have ample amplification from that point to the TVs.

The coax from the new UHF antenna to the amplifier is about 25 feet. It is high quality coax used by Starpower (now RCN) when they installed cable TV in the neighborhood. Somehow a neighbor acquired a wooden roll of the coax and I got it from him when he moved. Anyway, it is good coax. When we put an addition on the house some years ago I wired it with coax during the construction and bought some good tools for cable stripping and putting connectors on, so my connections are good quality -- better I'd say than the commercial one that came loose!

Anyway, do you think that an amplifier at the antenna for the relatively short run to the main amplifier would be useful? Reviews of commercial antennas (e.g. see comparison of models when you scroll down at http://www.amazon.com/Mohu-Amplified-Attic-Outdoor-Antenna/dp/B00AVWKUXE/ref=sr_1_1?ie=UTF8&qid=1425843926&sr=8-1&keywords=sky+60 and also see reviews) that come with 30 foot coax and with or without an amplifier suggest that it might.

Another alternative would be for me to build a second one of your omnidirectional antennas and mount it just above the existing one to have eight sets of elements instead of four. I assume that would boost the distant reception somewhat but not double the signal strength. What do you think?

With today's weather -- it is 55 degrees here now! -- the snow is melting rapidly, and I should be able to get back up on the roof this week to try rotating the antenna a bit. Given the elements are only 90 degrees apart, though, I doubt it will make much difference. We'll see. I'll let you know.

Thanks again for all your help.

Bob

-----03/09/2015

Bob,

I don't have that info here at work. Just a quick note then, if you have a low insertion noise amp ~ 1.5dB then it's possible that another amp for the 25' will help. If you have an older good amp ~ 3.5 dB noise, then it would be better to replace the older amp first and see what happens with a low noise VHF/UHF amp.

I was using a cable company amp but it was ~ 3.5dB insertion noise. The two I picked up for testing were as low as 1.5 dB and the reliability of the weak signals was improved a bit.

I'll keep you email in the in box so I remember to look for the info when I can. Check out SolidSignal.com and search for low noise UHF/VHF amps. That's where I got mine

Phil

-----

Phil,

Thanks,

I'll wait for your email but in the mean time check out solidsignal.com.

I wish I had time to get up on the roof this afternoon and try rotating the antenna; the weather is great outside. But that project is going to have to wait until at least Wednesday.

Bob

-----

Bob,

You're welcome. The amps tested were:

This was my cable TV amp:
SV-A15PRS Comm Scope,
53 - 1000 MHz NF: 3.5 dB

LNA-200 Winegard,
L-VHF: 20dB NF: 3dB, H-VHF 15dB NF: 3dB, UHF: 16.5dB NF 1dB

PA-18 Antennas Direct,
VHF: 18.6dB NF: 1.8dB, UHF: 15.4dB NF: 1.8dB max average

Phil

-----03/10/2015

Phil,

Thanks.

I did some testing this morning with a small TV that has a signal strength feature -- a bar that goes from red to yellow to green. I found that the WMAR signal was in the yellow range, with no picture pixelation, when the TV was connected directly to the inside of the house end of the coax coming in from the antenna, where it feeds into the amp. Given that finding and my distance from the WMAR transmitter, I may be getting about all the signal there is to get; I wonder if a preamp at the antenna would help much. What do you think?

The signal strength I found led to some more testing throughout the system. I got essentially similar results wherever I had run RG-6. In the older section of the house where I had run RG-59 in the late 1970s, I got a much weaker signal with lots of pixelation on WMAR.

It seems like the solution would be to replace the RG-59 with RG-6 where I can get to it and try an amp before the RG-59 where I can't get to it to replace it. Does that seem reasonable to you? Any other ideas?

Bob

-----

Yes, your ideas are good ones. Use the best antenna, the best coax, then use a good low-loss amp as close to the antenna as you can. I don't know the loss factor for RG-6 25' length for WMAR, Ch2 (Really at ch 38 or 614 - 620 MHz)

I found a calculator at: http://www.net-comber.com/cable-loss.html

loss = 1.25 dB not that bad so try it without an amp close to the new antenna.

You need a good tool to tell the signal level to really know. I bought a good TV signal analyzer which could really help but for now make your changes and see what happens.

-----03/23/2015

Phil,

I'm sorry I haven't gotten back to you sooner. I got sidetracked by having to prepare for a couple of speeches -- I'm an amateur historian and was asked to talk about the history of the Silver Spring Library at the library's closing ceremony on March 15th. The old library is being replaced by a new building opening this summer. That followed a presentation on "The History of Beer" (!) at a local beer tasting event sponsored by our neighborhood association four days earlier. Then I was hit by the worst cold I've had in years. The result is that I didn't get much done the last two weeks on the antenna project except replacing one old coax and checking signal levels a few times with my little TV.

WMAR (virtual 2, actual 38) seems to be the best test for the antenna in my location. Although generally there is little or no pixelation, its signal varies in strength from medium to low, often within a few seconds or a minute on the same RG-6 coax connection. So I think the issue is reception strength. I still plan to replace RG-59 with RG-6 where I can get to it, though.

Anyway, I have the materials needed to build a second one of your antennas which I would put on the same pole just above the original one, making 8 stacked rows of elements rather than four. How much do you think that would help?

I'm assuming the two antennas (now halves of one taller antenna) should be wired as shown below in red, front to front and back to back. What do you think? Also, do you think it would make any difference if I leave the feed to the coax where it is? Or should it be moved up to between the two halves?

??It is beginning to look like spring has finally arrived, which should make the outdoor, on-roof, part this project easier. In any event, I've had enough snow for one year! Thanks again for all your help!

Bob

-----

Bob,

I have to get to bed but, it would be better to add two section above the first four & below the first four. Not easy to do so yes you have the correct idea for the wiring.

Phil

-----03/24/2015

Phil,

Thanks again for all your help.

I sketched it out, and actually mounting the four new rows above the existing is the same as mounting two above and two below, except that the feed to the coax is in the middle if two are above and two are below. See the sketches.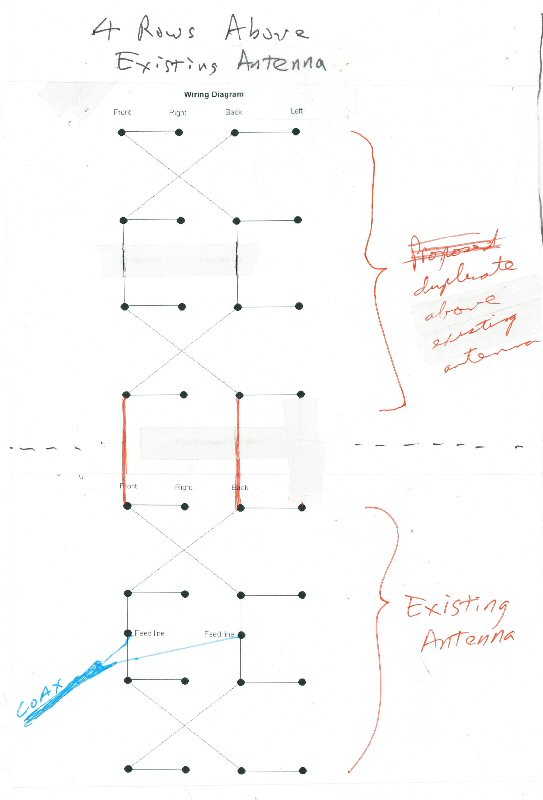 That raises the question as to how important it would be to move the feed to the coax so it is in the middle if I simply added the four rows above the existing antenna. What do you think? Do you think adding the four more rows would help much?

Bob

-----

Bob,

Yes, that should work. If both antennas add perfectly you could expect twice as much signal getting to the TV. This never happens and as I said building the antenna that long may or may not help due to other considerations such as reflections.

Phil

-----03/25/2015

Phil,

Since I have the materials, I'll build the second antenna, put it on top of the current one, and let you know the results. I'll send a photo, too.

Reflections may well be a problem, especially as the trees leaf out. I'll update you on that when it happens.

Thanks again,
Bob

-----

Sounds good Bob, I'm looking forward to it.

-----05/09/2015

Re: Omnidirectional TV antenna

Phil,

Today I finally finished construction and installation of a second omnidirectional antenna on top of the original one. See the photo below.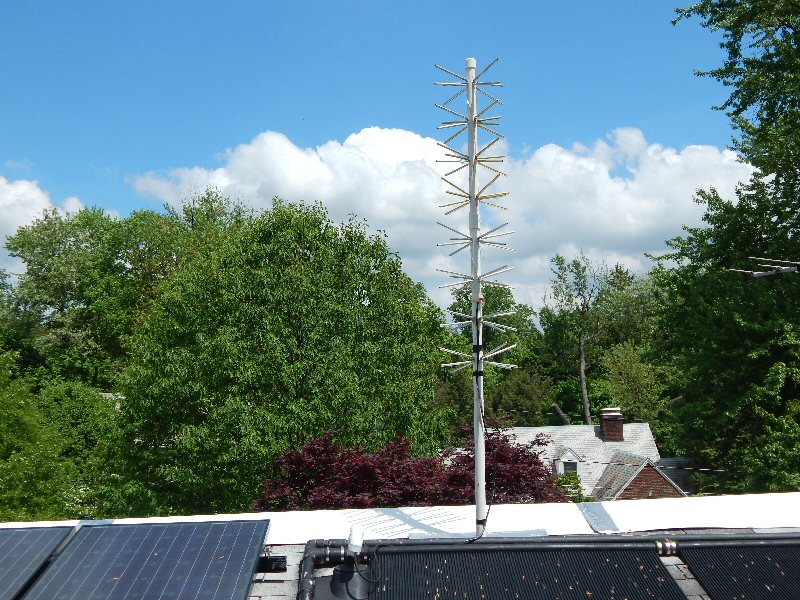 In late March / early April I started having serious problems with pixelation. an picture break-up using the original antenna. This was about the time the trees were beginning to leaf out, and I think the problem was related to multi-path signals when the wind was blowing. I went back to using my old highly directional UHF antenna.

The trees are fully leafed out now, and I've been doing a little experimenting. My site is surrounded by trees higher than the antenna on all sides, although some are farther away than others. With the original omnidirectional antenna, I no longer receive some stations I was receiving pretty reliably before the trees leafed out. When I added the second antenna above the original one this afternoon, I immediately started receiving some of the missing stations again, although there is some occasional pixelation on some of them. It isn't very windy today, so I don't know how that will affect things. I'll let you know.

Thanks again for your help with this project.

Bob

-----05/10/2015

Bob,

That looks & sounds great! I want to eventually add a page to my web site that has the experiences of people like you who have built the antenna and how it has worked out for them.

Would you allow me to use your photo to show off your work?

Definitely keep me informed. I may have to do the same thing soon to see if that helps with my situation.

This year it looks like the trees are a bit more dense than last year & we're losing the Washington Stations again with our attic antennas.

Thanks for the update!

-----

Phil,

Feel free to use my photo and anything else I've emailed you.

Adding the second set of four rows of antennas to the top of the original antenna has definitely increased the signal strength. It still isn't as good as before the leaves came out, but it helped. It might solve your problem with Washington stations.

I'll let you know about multi-path and pixelation with the enlarged antenna when we get a windy day.

Bob

-----05/12/2015

Thanks Bob, now I just have to start putting the page together.

I look forward to your further input.

Phil

-----05/13/2015

Phil,

All the wind this morning provided a good test for the effect of tree movement on the reception and pixelation with the expanded antenna. As you may recall, I started having a problem with pixelation, especially on windy days, with the original antenna when the trees started leafing out. Better reception with the double-sized antenna seems to have gone a long way toward solving the problem.

The wind and tree movement had no effect at all on reception of strong and medium strength signals regardless where the station is located. Here in Silver Spring I had no problem with the strong and medium strength Washington area stations and virtual 22 from the Annapolis area, for example. There was minor pixelation on a low power Washington station (virtual 49) and WMAR from Baltimore (virtual 2). Both were somewhat pixelated when the wind was blowing and generally OK when it wasn't.

My conclusion is that stronger signals, or better received signals because of the doubled antenna size, are relatively immune from multipath reflections resulting from the trees blowing around.

This makes me wonder how much building and adding a third or even a fourth one of your antennas above the existing two -- if I could scrounge more aluminum tubing to do it -- would benefit the reception. Adding a second one to the original really helped. In fact, you might consider having 8 rows of elements as your standard design except for people who only want strong local channels. You might want to try doubling your original antenna and see if it helps you in Mount Airy.

Bob

-----

Bob,

Thanks for the additional information that is very good news. I would also suggest that it all depends on the signal path. If your signal is coming directly through the trees then that's different from a reflected signal that then comes through trees. But, as in almost all things R. F. you have to test to see if it works for you. I'll definitely give that a try.

I assume you put the feed line between the two four-section antennas as I suggested, is that correct?

-----05/14/2015

Phil,

The easiest thing to do for my test installation was just to connect two of the lower elements in the new antenna to the corresponding two upper elements in the original antenna, as shown in red below. Since it seems to be working well, I haven't yet gone to the trouble of moving the feed. Do you think it would make any significant difference if I moved it up to between the new antenna section and the original antenna. I need to go back up on the roof sometime to glue the PVC pipe sections anyway. As it is now the two PVC sections are just shoved together into a coupling but not glued.

Bob

-----

Bob,

Very good thanks for the clarification. If you add another section add it to the bottom to even it up. If the PVC is in all the way & tight gluing may not be needed but I'd probably glue it if it were mine.

I wouldn't bother unless you want to test it that way. I can't think of a reason it would make things substantial better it's just that then the feed line is symmetric to all the elements & that means elements at the same distance should enhance the signal since they should be getting the same signal at the same time & phase. But, if the signals come from different directions it might not work that way. There's only one way to find out, aside from modeling software, & that's to try it.

I have a J-pole vertical VHF/UHF ham radio antenna that I repaired about a month ago & I did not glue the top cap on or the main body to the join. This was done so I could take it apart & repair it if it falls & breaks again. So far so good even after that wind storm we had.

-----

Phil,

It turned out that my PVC glue had dried out, but I've now bought another can, so I can glue it .If I can find another old antenna somewhere to cannibalize the elements and make another section of antenna, I'll make one and add it to the bottom .I have the necessary length of PVC pipe. Of course as it gets taller, I'll have to start think about guy wires to keep it stable in strong wind .As it is, I haven't been very concerned about that.

Bob

-----

Bob,

OK, yes the wind load could be a concern. Also be aware it might be good to paint the PVC to protect it from UV since the white PVC is indoor PVC & gets somewhat brittle after ~ 10 years, or sooner, in the sun. If it has a thick enough wall it will probably be OK even with another 2+ feet of length but you'll know when you carry it around how floppy it is.

I've made mine out of hanger wire, not the super stiff kind but still, it is not as good as aluminum. I wonder if I can find Al tubing?

I had a friends antenna & was going to salvage the elements but then when I took it apart it was in such good shape I simply refurbished it, removed the poor amp, and hooked it up along with the high-gain UHF antenna I got for her & she's had both Wash D.C. & Baltimore (one Hagerstown station) ever since going on four years now I believe. I feed both antennas into a much better amp & it supplied two TVs in her house.

Phil

-----05/15/2015

Phil,

Thanks for the tip about painting the PVC pipe. I hadn't thought about it getting brittle in the sun after a few years. If I simply spray painted, I assume it wouldn't do any harm if paint got on the antenna elements. Correct?

Bob

-----

It depends on the paint. Make sure it is not carbon based or metallic of course both will or could change the reception. Mostly hams worry about the transmission end of things & I have heard that some paint is not to be used but I have never found out which.

Also, I have not painted any of my PVC pipe antennas, yet. One is inside & won't need it the other three are outside, two of which, ham J-poles, have gotten brittle & each has broken when they fell. On the other hand some glue & joins have put it all back together so I haven't worried about it yet. The J-poles are easy to make & replace if needed. The one porcupine up there was a test but I do want to get it down & perhaps add another section to see if it helps like yours did.

73 de KE3FL,
Phil

-----05/17/2015

Phil,

I built a third omnidirectional antenna this weekend and mounted it below the original one. So now my stack is 3 of your original design high, as you can see in the attached photo. The lead in is fed from the middle of the middle antenna.




Three Porcupines in a Row, Vertically,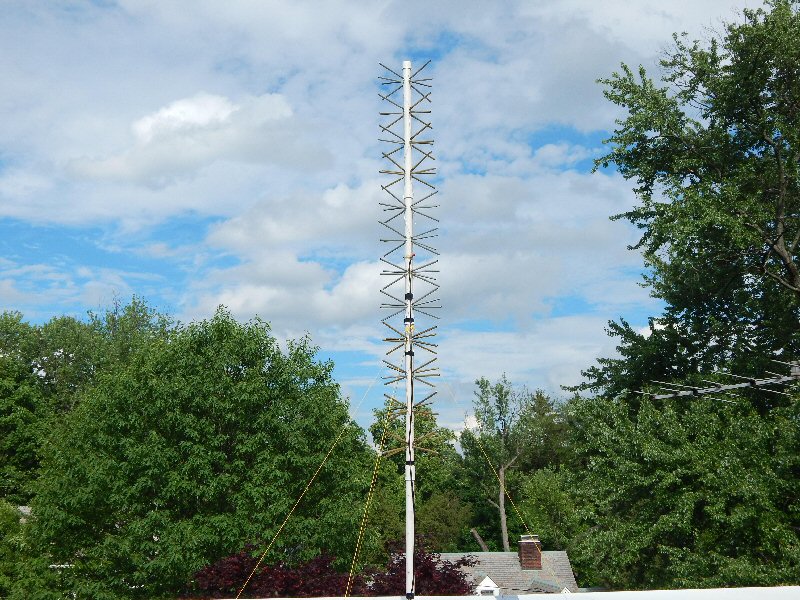 Bob's Antenna Sections/Elements Attached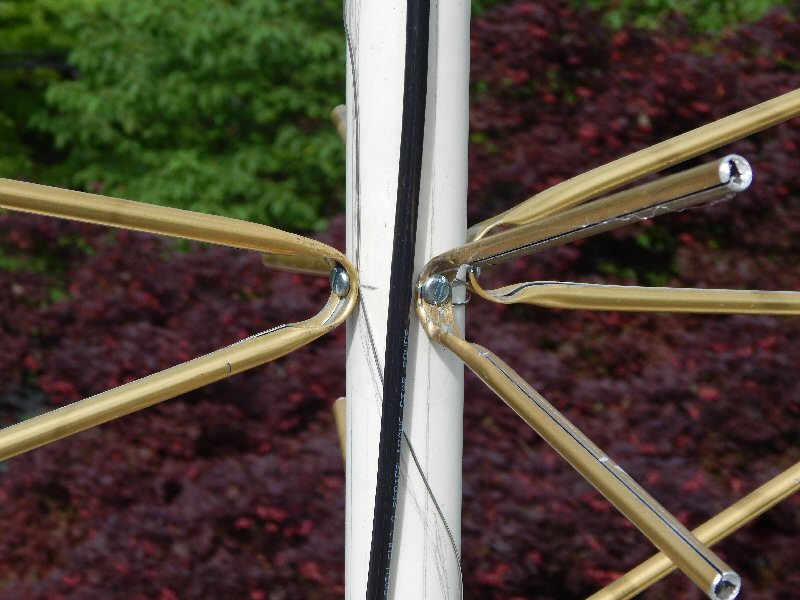 The result is that I am now getting a solid picture on WMAR (virtual 2) and on virtual 49.4, a low power station in the opposite direction in Washington. Both of these were good tests previously, sometimes solid, sometimes pixelating, and occasionally dropping out entirely. I have a TV with a signal strength indicator bar in three segments. Previously both were in the lowest third or just into the middle third as the signal varied. Now both are in the middle segment. The strength still varies a bit, but it stays in the middle range. I'm also getting good reception from 22.1, off to the side in Annapolis, as I was before.

There's not much wind this afternoon, so I can't yet judge the effect of wind, but given the fact that wind didn't cause significant problems when I added the second antenna on top of the original one, I doubt wind will be a problem now either.

Thus it appears that the key to getting strong stable signals from relatively weak stations is simply to add more elements to your omnidirectional design. There doesn't seem to be any downside related to multipath reception, etc.

I haven't painted the PVC yet, but I did add some guy wires.

I'll keep you posted in anything changes

Bob

-----

Bob,

Thanks for the update & the photo. I'm presently putting together the comments page with how you and Steve have managed. I was contacted by a third person but he hasn't gotten back to me.

Your experiments will be a really good addition to the over-all page.

Thanks,
Phil